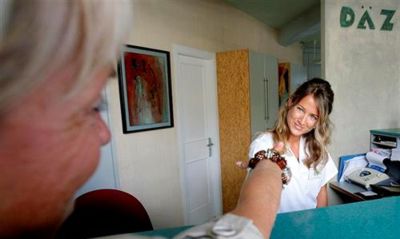 The German Medical Center stands for the highest quality of medical treatment on Tenerife.
A good health means freedom, that's what we believe. We would like you to enjoy your freedom untroubled during your stay.
Therefore we offer you some excellent doctors, friendly staff and the most modern treatment. Through us you get the confidence to feel free in a foreign country.
Dr. Ingo Pötsch and Andrea Pötsch founded the first German Medical Center on Tenerife in Playa de Las Americas in 1999.
More than 40.000 treatments have been carried out since then. Since the year 2000 we cooperate with the ADAC, the "Arbeiter-Samariter-Bund" Germany and the German Air Rescue (DRF).
5 experienced doctors from various disciplines are working with commitment and knowledge for you. The patient as a whole is always our maine priority in treatment together with a personal and kind attendance.
A team of 11 operates with the latest medical technology on the highest level. Continuing education is as natural for us as the exchange of knowledge between the medical departments in our center.
Our managment under the direction of Andrea Pötsch has recieved numerous awards for friendly, exclusive and personal service.
In the case of a serious illness our ambulances with full intensive care unit and an in emergency medicine qualified doctor make sure of a safe return home.
Your team of the German Medical Center of the Canary Islands
"Health is freedom"
On Call 24h a day
Tel.: +34 922 79 29 08
Opening hours:
Mo. - Fr. 8:00 h to 18:00 h
Sa. 10:00 h to 12:00 h


24 hours on call
Tel.: +34 922 79 29 08

handicapped accessible
We are online!
We are very pleased to welcome you on the new website of the German Medical Center - DÄZ! If you have any questions or remarks please feel free to contact Diese E-Mail Adresse ist gegen Roboter geschützt, Bitte aktivieren Sie Javascript, dann erst können Sie diese Adresse sehen . Die Email-Adressen der einzelnen Ärzte finden Sie unter der Rubrik "Team".